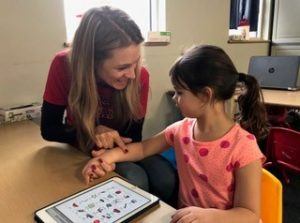 Are you having trouble motivating your child to practice their speech and language skills at home? Your child's speech therapist is likely assigning tasks to practice at home throughout the week to reinforce the skills they're learning in therapy. Home practice can make a huge difference in their progress and usually means faster improvement. Speech therapy isn't an easy fix and it requires a lot of hard work and consistent practice over many months or even years. Home practice does not have to be boring! Below is a list of applications, websites, and games that you can utilize to make home practice fun:
Applications
o My PlayHome
Compatibility: iPhone, iPad, and iPod touch
Price: $3.99
Description: My PlayHome is an interactive doll house game that contains a variety of male and female characters that can eat, drink, cook, shower, sleep, and so much more. Your child can explore every room in the house while enjoying the colorful and detailed illustrations.
How to use it:
Expressive language skills: Labeling actions and common objects, producing regular and irregular past tense verbs, answering wh- questions, describing picture scenes, telling how common objects are used, naming categories, producing he/she pronouns and regular plural -s.
Receptive language skills: Identifying common items, understanding verbs in context, understanding use of common objects, following directions, and understanding pronouns.
Why it works: My patients absolutely love this game. It is so fun and motivating- they don't even realize they are working on a variety of language skills!
o Articulation Station
Compatibility: iPhone, iPad, and iPod touch
Price: Lite version is free, individual sounds range from $3.99 to $7.99, and full version is $59.99
Description: The application includes 22 different sounds and 6 engaging articulation activities to help your child speak and pronounce their sounds more clearly.
How to use it: Select the individual sound(s) your child is working on in speech therapy and practice at the word, phrase, sentence, or story level.
Why it works: The application is fun, colorful, and engaging. You can practice your child's sounds through flashcards, matching games, rotating sentences, unique sentences, and stories. The activities are so fun that my patients often forget they are "working" on their articulation skills.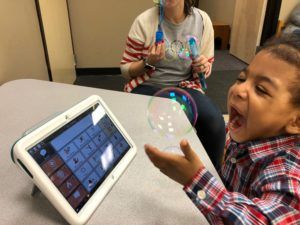 o Home Speech Home
Description: Home Speech Home is a website created by two certified speech-language pathologists. This website offers a variety of activities and word lists to practice articulation, apraxia, language, and stuttering principles. In addition, speech and language developmental norms and an overview of various speech and language disorders are also included.
How to use it: I frequently utilize the word lists feature with my older patients. I select the specific sound(s) that my patient is working on and incorporate the words while playing their favorite board game or within conversation. You can practice their articulation skills at home with premade words, phrases, sentences, and stories.
o Mommy Speech Therapy
Description: Mommy Speech Therapy is a website created by a certified speech-language pathologist. This website offers a variety of free articulation worksheets that include colorful pictures of your child's specific target words, as well as helpful tips and tricks on how to increase your child's speech and language skills at home.
How to use it: You can select your child's specific sound(s) and print out the associated free articulation pictures, cut them into individual pictures, and play a variety of games at home. You can hide the pictures around the house and have a "scavenger hunt" and ask your child to name the pictures when they find them. You can print out an extra page and play Go Fish or a matching game with the pictures while reinforcing their articulation skills. The options are limitless!
Games
o Guess Who
How to play: You can target a variety of language and articulation skills with this classic board game. Guess Who is great for working on he/she pronouns, asking questions, answering yes/no questions, producing grammatical forms (e.g. do/does, has/have), and articulation skills at the conversational level.
o Hedbanz
How to play: Hedbanz is a fun way to work on naming categories, answering yes/no questions, turn taking, and articulation skills while your child guesses the identity of the card they've been dealt.
o Simon Says
How to play: Simon Says is a quick and easy game to work on identifying common objects (e.g. body parts), following one-step directions, as well as directions of increasing length and complexity.
If you have questions about your child's speech and language skills please contact ABC Pediatric Therapy Network at https://www.abcpediatrictherapy.com.
Read More