Developmental Checklist
Is your child meeting their developmental milestones?
Use our interactive screening tool to see if your 1-6 year old is on track with their gross motor, fine motor, speech, and sensory skills.
Explore ABC Pediatric Therapy
Our mission is creating the best life for children. Learn more about our therapy services and our vision.
Every Child Can at ABC
At ABC, we believe that every child has the potential to succeed no matter the challenges. Get an inside look at our facilities and how we approach therapy.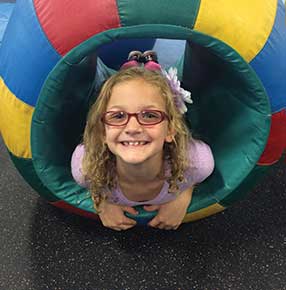 Winter time can be difficult for kids and parents, especially kids with higher sensory needs. Being stuck inside more means less time outside and fewer options for movement activities. Here are some ideas to get your kids moving and to keep them busy during those long...
read more
Jakob was diagnosed when he was 3 and a half. It wasn't a surprise, I had suspected it since he was 9 months old.  This was 14 years ago this month and back then, doctors were hesitant to diagnose before the age of three.  So for almost 2 years, all we heard was that...
read more
Message from our CEO
I created ABC because I believe our special children are typical children stuck inside bodies that have not yet learned how to work. I believe every child has a voice. We must figure out how to hear it. I believe all our special children can be mobile, and we are challenged to give them wings. I believe every child can be confidently independent. We have to believe enough in them to let them have successes and failures. I believe each child should be treated the same at their cognitive level. We fail if we treat any one child too special. We fail if we do not redirect or discipline each child as we do each of our other children. We fail by not allowing them to mature emotionally because we did not think they could. I believe every child CAN. I believe each child has to fall to get back up. I believe each child needs to see another child's success to know they can be successful. Every child needs to see another child fail to know that it is okay to also fail. I believe all children can ride a bike. The bike may look different than the bike you ride, but it is still a bike. I believe all children can tie their shoes. The knot may not look the same as the knot their brother makes, but they made the knot on their own. I believe these things to my core… I believe all it takes is to believe.
Down Syndrome
ABC Pediatric Therapy provides services to children of all ages with Down Syndrome