Our dynamic approach to therapy produces amazing results in our clients every day. Kids gain skills faster because of our unique treatment, facility, and staff. Our child-directed approach is more fun for kids and helps them achieve their goals faster than more traditional therapy methods.
Go to our Facebook page to see our full collection of Weekly Success Stories.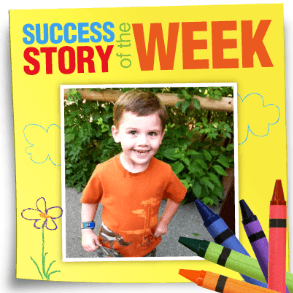 Max
"Max was referred to ABC over a year ago for concerns of no babbling/speaking, didn't eat, licked things and had huge meltdowns with head banging. He has worked extremely hard with the help of his amazing therapist Heidi(OT), Sydney(SP) and Christina(SP). Since starting therapy Max signed and now speaks, eats, and has less meltdowns with no head banging. He is able to happily function every day! With a little extra help from Max's Heidi (OT) he has now started preschool and is enjoying it! We have been blessed to work with everyone at ABC! Max would not be the boy he is without everyone's hard work and dedication. Thank you to ABC, Heidi, Sydney and Christina for loving Max!"
Kelly Pledger (Mom)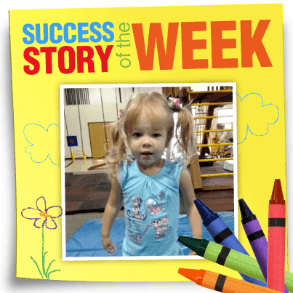 Kylie
"Kylie first came to ABC because of her sensory challenges, speech delay, and low muscle tone. Kylie is definitely physically stronger as a result of therapy. She can now do steps, slide, and jump! Her speech has improved and her anxiety has lessened. She is getting braver and more independent thanks to the wonderful guidance of her therapists. I'm excited for what they will be working on in the future and to see the pride in my daughter's eyes when she succeeds."
Chanda McIntosh (Mom)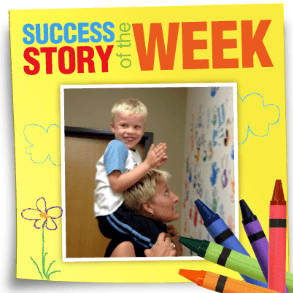 Landon
"Two years ago our son Landon was referred to ABC for sensory and speech concerns. Landon was a picky eater, didn't like to get dirty, and a change in clothing or routine would cause a breakdown. After 2 years of working with Christy (OT) and Lindsay (speech), I now have a little boy who loves to run and play, can tell me what he wants or needs, and the basic everyday chores of brushing his teeth, getting dressed, and eating a meal are done without tears! Without the help of ABC, I do not believe Landon would be where he is today! Thank you ABC, Christy, and Lindsay for giving us our little boy back!"
Avery
Avery was referred to ABC Pediatric Therapy at six months old. With a daunting diagnosis, her parents turned to the wonderful therapists at ABC Pediatric Therapy to work through her developmental challenges. Watch this inspiring story about the amazing progress she's made through physical, occupational, and speech therapy.
Celebrate Your Child's Success by Submitting Your Child's Success Story