Splints, Braces, and Orthotics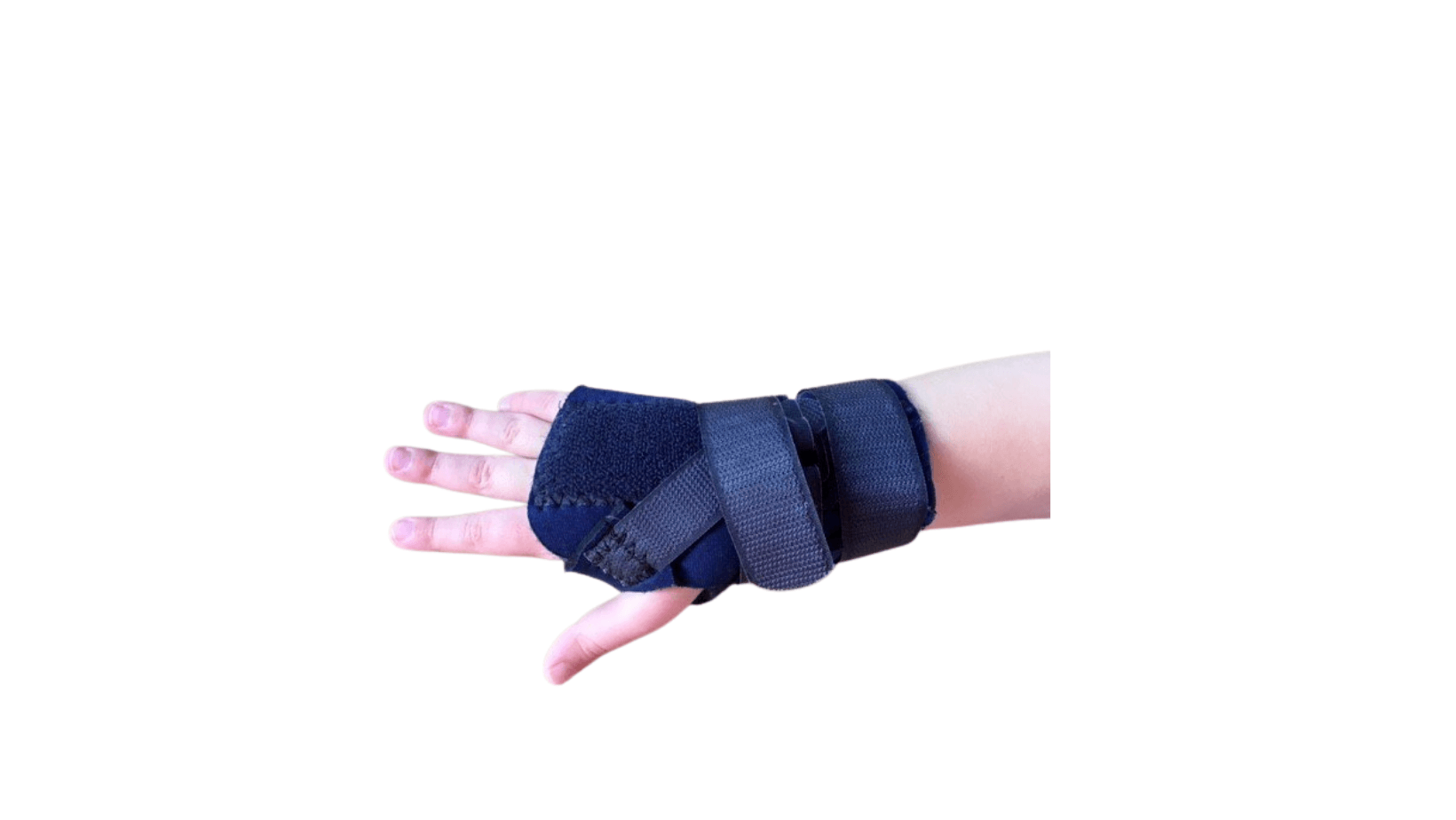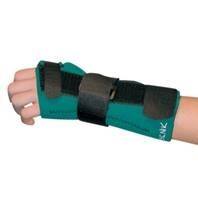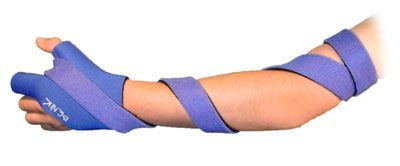 Our occupational therapists can order off-the-shelf custom-sizing hand and wrist splints for your child.
Hand and wrist splints stabilize the joints of the hand and wrist, improving their functional use in the desired position
Our therapists use best in class products like DAFOs, Suresteps, Benik and others.
Some diagnoses that might benefit from hand and wrist splints:

Cerebral Palsy
Traumatic Brain Injury
Spina Bifida
Ehler Danlos Syndrome
Hypermobility
Nerve palsy
Hand/wrist weakness or contracture
Knee Braces
Our physical therapists can order pre-made knee braces for your child. These knee splints have different uses.
Different types and their benefits

Your child can wear a knee extension splint at night if he has a knee flexion contracture. This type of knee brace prevents your child from bending his knee, and provides a stretch to the hamstring to prevent the hamstring from getting any tighter
Your child can wear a knee extension splint to help your child stand if he has poor quadriceps strength. This brace prevents your child from bending his or her knees, providing more stability and allowing you or your therapist to work on standing without having to support at the knees.
Your child can wear a HEKO (hyperextension knee orthosis) to prevent your child from hyperextending their knees
Other knee braces are used to help with knee instability or alignment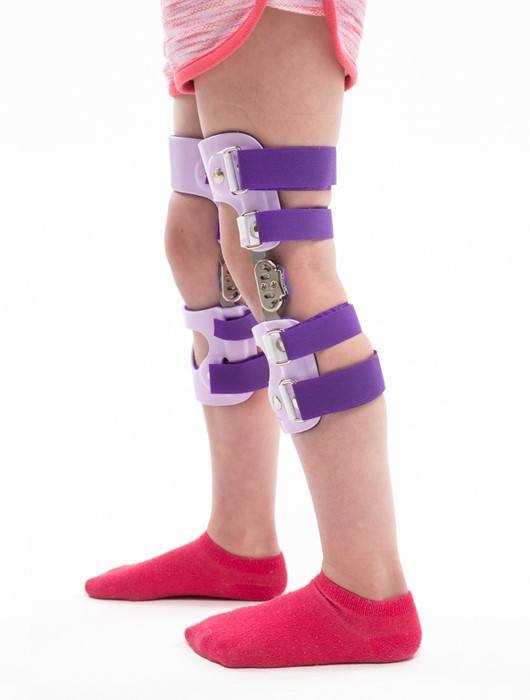 Ankle Foot Orthotics (AFOs)
Many of our physical therapists are specially trained to measure and cast for custom AFOs (Ankle Foot Orthotics).
An AFO (sometimes called a brace or splint) covers your foot, ankle, and goes up to just below your knee. It provides external support to help a patient maintain an appropriate foot and ankle position, encourage mobility, and improve stability.

We're able to make many different specifications to these AFOs depending on your child's needs and functional status – hinges, plantarflexion block, dorsiflexion assist, soft inner liners, etc.

Our therapists utilize the following orthotic fabrication companies for your AFO needs: Cascade DAFO and Surestep
Some diagnoses that might benefit from AFOs

Cerebral Palsy
Down Syndrome
Hypotonia and Hypertonia
Spina Bifida
Spinal Muscular Atrophy
Muscular Dystrophy
Ehlers-Danlos Syndrome
Contractures
Toe-walking
Charcot Marie Tooth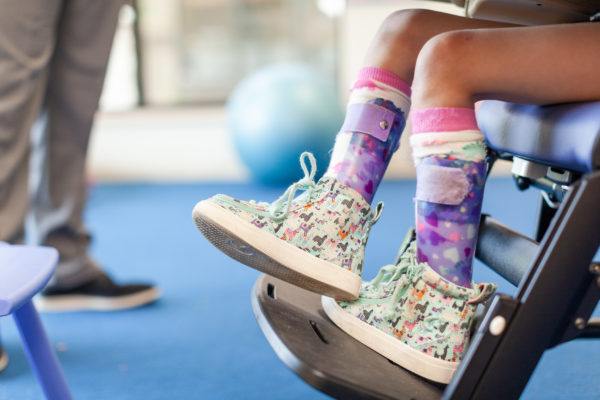 Supramalleolar Orthotics (SMOs)
All of our physical therapists are specially trained to measure for custom SMOs (Supramalleolar Orthotics).
An SMO (sometimes called a brace or splint) covers just your foot and ankle – it does not go up to the knee. An SMO also provides external support to help a patient maintain an appropriate foot and ankle position, encourage mobility, and improve stability. Since the brace does not go up to the knee, it allows for a more natural gait pattern and push-off, while still providing good ankle and foot stability.
Our therapists utilize the following orthotic fabrication companies for your SMO needs: Cascade DAFO and Surestep
Some diagnoses that might benefit from AFOs

Cerebral Palsy
Down Syndrome
Spina Bifida
Spinal Muscular Atrophy
Muscular Dystrophy
Ehlers-Danlos Syndrome
Contractures
Toe-walking
Delayed walkers
Hypotonia
Charcot Marie Tooth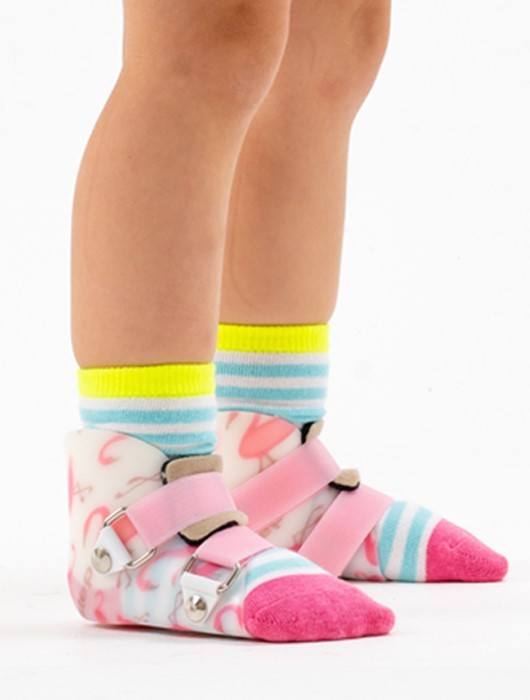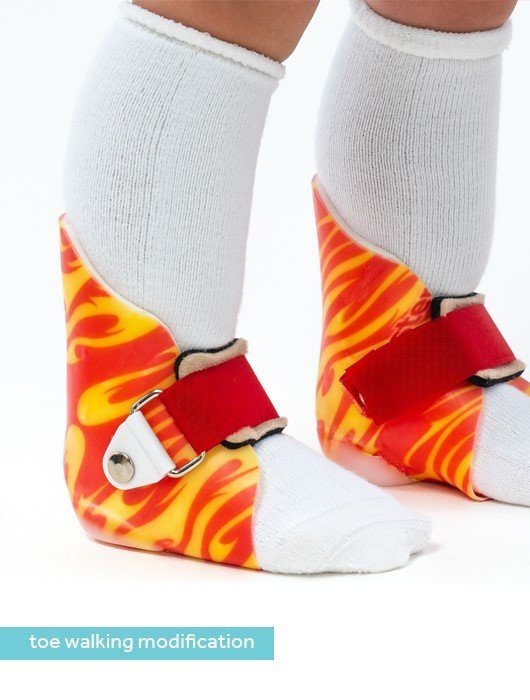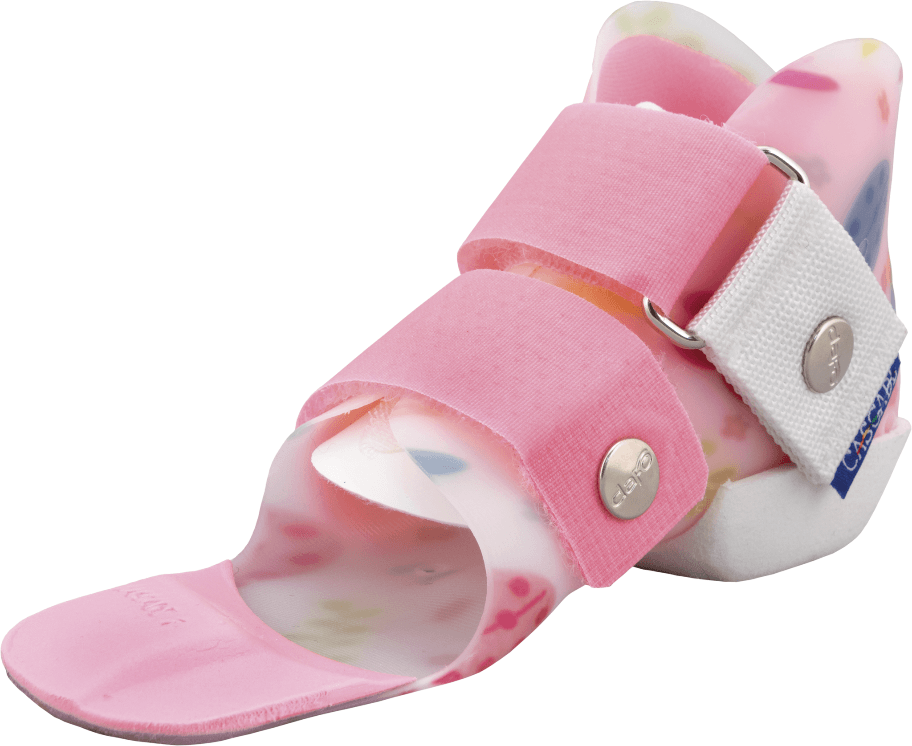 Foot Orthotics or Inserts
All of our physical therapists are able to measure your child for off-the-shelf foot orthotics or orthotic inserts. These orthotics are pre-made but provide appropriate support for many of our patients.
A foot orthotic or insert only covers the bottom of the foot and remains in the shoe.
Foot orthotics or inserts can be made out of foam or a harder plastic, depending on the support that the patient requires.
There are different designs of foot orthotics/inserts depending on the amount of external support that your child needs.
Foot orthotics or inserts are beneficial to address foot and heel pain, pronation, and low tone.
Our therapists utilize Cascade DAFO for the ordering of your child's foot orthotic or insert needs.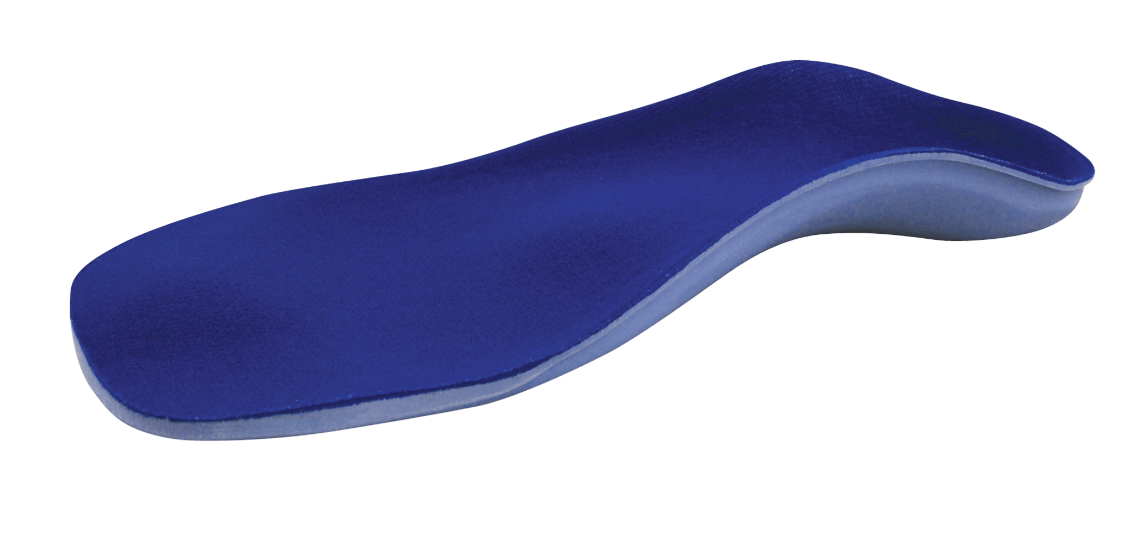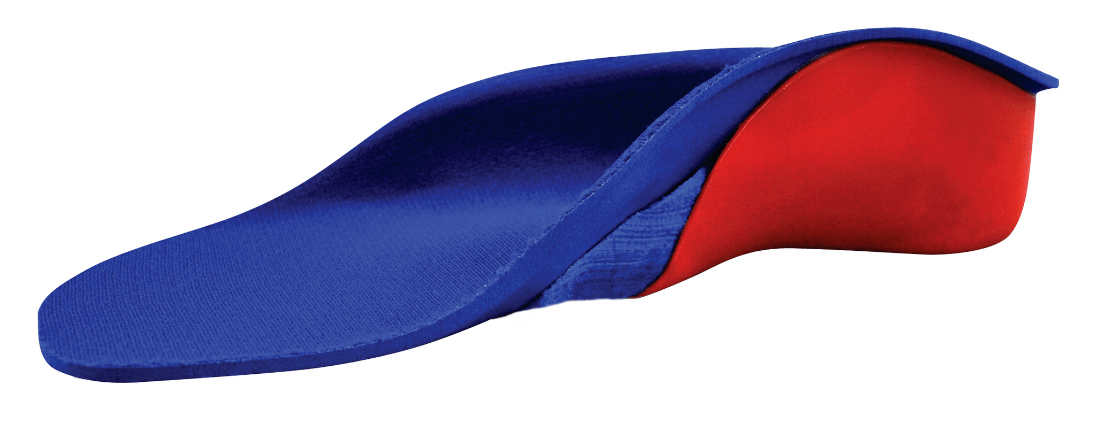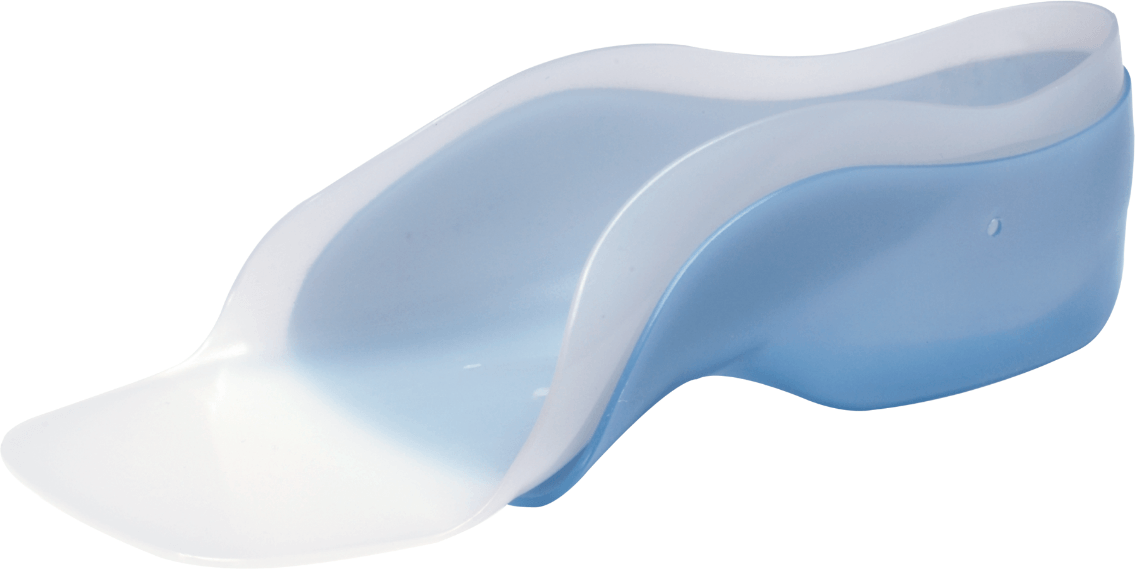 Derotation Straps
All of our therapists can assist you with getting these derotation straps for your child who might walk with his toes excessively turned in or turned out.
These straps are pre-made but can be trimmed appropriately for each child.
The way they are applied is specific to whether your child turns feet in our out. Your therapist can educate you on how to apply the derotation straps.
The straps originate from an elastic belt that goes along the waist, wrap around the legs, and then can attach to shoes or braces.
Ideal for addressing: flexible internal or external tibial or femoral rotations
Contraindication: fixed rotational deformities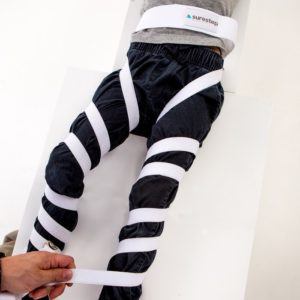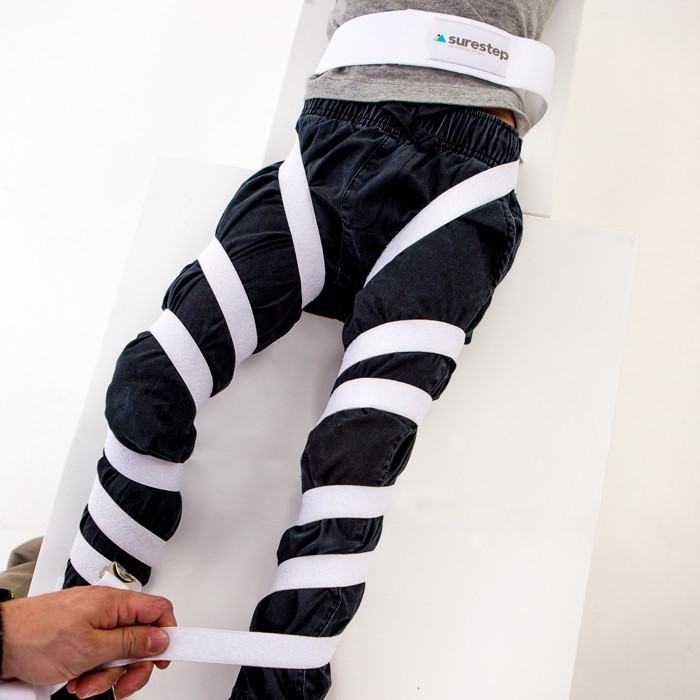 Through steady improvement, your child can attain a boost of confidence.
Help your child find new levels of independence with pediatric physical therapy in Cincinnati and Dayton, OH.