Why ABA and Early Intervention?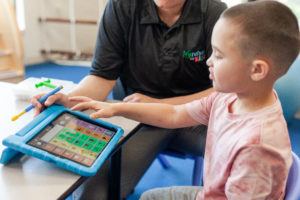 Applied behavior analysis, also known as ABA or ABA therapy, is a research-based treatment that has been shown to be effective for individuals with a variety of behavioral and developmental conditions.
It is more comprehensive than early intervention and is most commonly used to address problematic or dangerous behaviors and to improve skill deficits for individuals that have been diagnosed with autism.
Although ABA therapy can be effective for a wide range of individuals, years of research show that the strategies and processes to be the most effective for children before the age of five.
Early intervention can reduce behaviors that may have become engrained or routine. Early intervention also has greater chance of building pivotal developmental skills. Through a comprehensive approach, early intervention can include a focus on communication, language, play, self-help/adaptive, learning readiness, and social skills, as well as a reduction of challenging behaviors.
Programming is research based and tailored to each child's specific needs and should include the adults in the child's life to encourage skill growth and generalization outside of therapy sessions.
Starting early intervention can mean you're catching and correcting issues at a critical point in the development of your child, changing their developmental path.
Written By:
Adrienne Oaks, M.Ed.
BCBA, COBA / Clinical Director