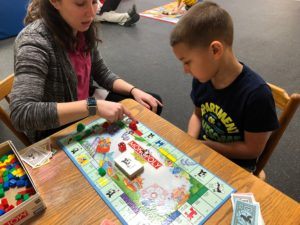 THERAPY IS PLAY!
Occupational therapy from a parent's perspective: Why is the therapist playing with my child, and why am I paying for someone to play with my child when I could do this at home?
Occupational therapy from an OT's perspective: How can I make this fun and purposeful, while giving this child a challenge?
OT's have a method to their madness, a purpose to their play, an underlying skill to work on with every move. We just disguise therapy with play…because let's face it…if a child thinks they are "working" they won't be as motivated to participate!
Play is a child's number one occupation; it is intrinsically motivating and FUN! What children don't know? It is also a learning experience. Children are like sponges; as they interact with objects, their environment, and the people around them, they are soaking up all of the wonderful skills needed for future occupations such as being a student, completing chores, and playing with friends!
So…what's the difference between play at home and play at therapy?
As occupational therapists introduce toys and play into their sessions, we are continuously looking for the just right challenge for your child. This means we are allowing them to learn new skills with our support, but without overwhelming them in the process. As we assess their skill level during play, we are also able to provide modifications to the activity and are able to grade the level of difficulty up or down based on your child's specific ability.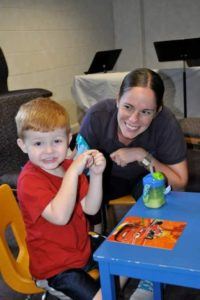 Examples of this could be: sitting on a therapy ball while playing a game to activate postural muscles, coloring on a vertical surface to improve shoulder stability, or using tongs to pick up game pieces rather than their hands for fine motor control and strengthening.
Each toy and activity used during therapy is specifically chosen to cater to the individual needs and abilities of your child. When choosing a toy or activity, some of the things occupational therapists consider are:
-What does their grasp or release on objects look like?
-How is their postural control and shoulder stability?
-Are their movements intentional and fluid, and are they able to move their arms and legs both individually and simultaneously?
-How are they manipulating, exploring, and interacting with the toys? Is their play purposeful and functional?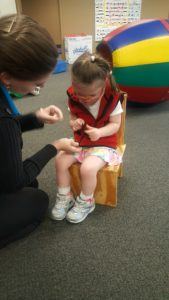 -Are they aware of their environment and the others around them?
-Are they able to follow multi-step directions?
This is just a glimpse into what play looks like from an OT perspective. That's why we allow the last few minutes of our sessions for Q&A with you, the parents! We are a team, and we want you to understand the goals for your child, and the path to master those goals. The home exercise programs created for you and your child are imperative to seeing the most success. We encourage you to ask questions when you are uncertain about anything!
Read More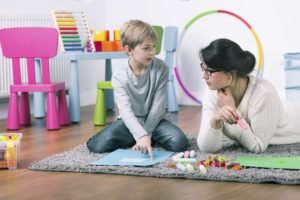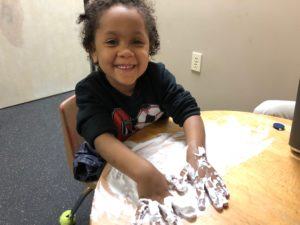 Winter time can be difficult for kids and parents, especially kids with higher sensory needs. Being stuck inside more means less time outside and fewer options for movement activities. Here are some ideas to get your kids moving and to keep them busy during those long winter months:
– Check out your local library for different classes they have – they often have story time and other free programs
– Many fast food restaurants or indoor malls can have play areas where they can climb and slide
– Stores that sell playground equipment will often have the option to play on equipment indoors for a small cost
– Children's museums or other museums – some of them have a cost and others are free to the public
– Cooking or craft classes
– Indoor play cafes
– Nature centers
-Play in the snow!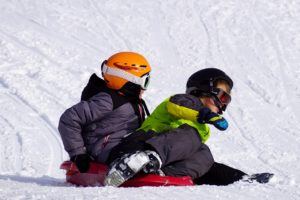 – At home:
o Make an indoor obstacle course
o Science experiments
o Make homemade playdough
o Indoor snowball fight using wool dryer balls or rolled up socks
o Rice and bean bins
o Shaving cream, kinetic sand, play dough, putty activities
o Indoor scavenger hunt
o Create structures using marshmallows and toothpicks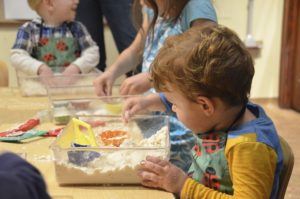 o Build a cardboard house
Continue to challenge your child's development everyday. If you have any concerns, visit our website https://www.abcpediatrictherapy.com or give us a call. We are happy to help!
Read More