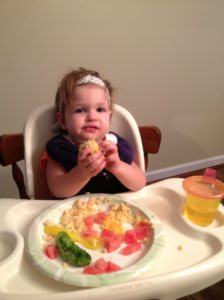 In order to learn about the world around them, children need to experience a variety of environments and situations. They need to be able to move, explore, climb, play, learn, and rest. In order to do all of these things as efficiently as possible, children need a varied diet full of nutrients. Without these critical nutrients, children may not have the energy, attention, or cognitive functioning to absorb all of the information around them.
Eating balanced and nutritious meals is crucial for a child's overall health and development. As we grow, our bodies use the nutrients we get from food to help us function and perform daily tasks. According to the article "The Importance of Healthy Eating in Children" posted on www.livestrong.com, children need "plenty of water and enough protein for growth and cellular repair. Children need adequate carbohydrates for their high energy levels and just enough fat to provide essential fatty acids for cell growth. Finally, children's diets require enough iron, calcium and vitamin D to strengthen blood and bones as well as zinc and magnesium to support the immune system. All of these nutritional requirements can be met through a diet high in fruits, vegetables, grains and meats."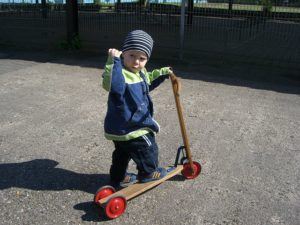 If you are having trouble getting your child to eat a variety of foods, here are some tips and strategies to try at home:
• Try new foods that are similar to those your child already enjoys. For example, if your child likes French fries, try introducing a few sweet potato fries on their plate. If your child likes pizza, try adding chopped up vegetables on the pizza. If your child likes chips, try pretzels or veggie straws.
• Use what your child likes to your advantage. If your child likes cheese, try broccoli and cheddar soup or cooked vegetables with cheese sauce. If your child likes macaroni and cheese, try using vegetable pasta instead of regular pasta.
• Involve your children in the food-making process. Take them grocery shopping, have them help mix ingredients together, or have them taste-test along the way. Knowing that they were part of making the food may encourage kids to try the finished product.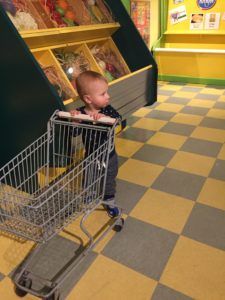 • Consider planting fruits and vegetables outside. This can be a great learning experience for children on where food comes from, as well as an opportunity to try something they actually grew.
• Take advantage of dips. Find a dip that your child enjoys, such as ranch, spinach and artichoke dip, or hummus. Use that as a tool to encourage trying new foods to dip.
• Make mealtimes and food prep fun and be creative. Use cookie cutters to cut food into different shapes, make silly meals from your children's favorite TV shows, or come up with silly names for foods.
• Give your child choices. Children like to be in control and letting them pick from a few choices of what they will have on their plates is a good way to increase cooperation.
• Limit grazing. This will help your child establish an internal system that promotes eating when they are hungry rather than snacking throughout the day, which can increase their willingness to try new foods.
• Find foods that are your child's favorite color, or try to eat all the colors of the rainbow. Make a game out of it and see who can eat the whole rainbow first
For more information on typical oral motor and feeding development in children, visit www.abcpediatrictherapy.com and review the developmental checklists. For guidelines regarding suggested dietary needs for children of different ages, review https://www.mayoclinic.org/healthy-lifestyle/childrens-health/in-depth/nutrition-for-kids/art-20049335. If you have additional concerns about your child's diet and nutrition, speak to your pediatrician.
Try the above tips and if your child does not begin eating a variety of foods, reach out to us! We, at ABC Pediatric Therapy Network, can help!
Read More