Home Activities for Your 2-3 Year Old
The following are several different activities that you can do at home, both inside and outside, for your 2-3 year old kiddo.
Inside Activities:
« Practicing Stairs – walking upstairs reciprocally (one foot passing the other), progressing from use of one handrail to no handrail. To make it fun, make it into a game with building blocks or with putting a puzzle together.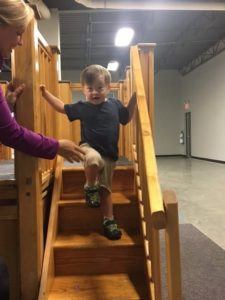 « Standing on One Leg – improve their balance and hip strength by practicing standing on one leg for 3 seconds. First start without hands on their hips, and progress towards hands on hips as this makes it harder. To make it more interesting, try doing this while playing a game (stopping every 3 turns), coloring at a table while standing, or watching TV for example.
« Alligators – this is a simple hip strengthening exercise that will help improve their stability and strength for stairs, balance, and walking. You have them start by laying on their side, slowly raise the top leg, and slowly lower. To make it more fun, have a stuffed animal between their legs, and "chomp" down slowly as if they are an alligator.
« Bridges – this is a simple core and leg strengthening exercise. You have them start by laying on their back with knees bent, lift their bottom up off of the ground (forming a "bridge"), and slowly lower down. To make this more fun, have a small animal, car or favorite toy pass under each time as they "open" and "close" the bridge.
Outside Activities:
« Going down the slide – whether at home or at a park, the slide can be a fun activity for kiddos. At this age, a kiddo should be able to climb up the jungle gym and go down the slide by themselves while being able to sit upright without falling over.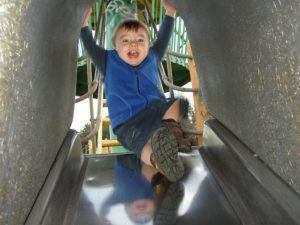 « Soccer – practicing kicking a stationary ball towards a target, whether that be you (caregiver), another kiddo (friend/sibling), a soccer goal, or some other creative target from about three-to-six feet away.
« Playing catch – practicing catching a larger ball by bringing/trapping to their chest rather than with just their hands, and progress towards hands-only after they get consistent with trapping. This can be made into a game with basketball, catching stuffed animals, etc.
« Bike Riding – practicing bike riding can be done inside or outside depending on the space available. At this age, a child should be able to ride a small push bike; a bike without pedals where the kiddo uses their feet on the ground to move themselves. They should also be progressing towards the use of a tricycle around the age of 3. This activity is fun while helping to build strength and coordination.
If you have questions about what your child should be doing and when visit http://checklist.abcpediatrictherapy.com for a free screening.
Visit our website at https://www.abcpediatrictherapy.com for information on child development.