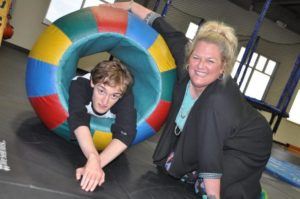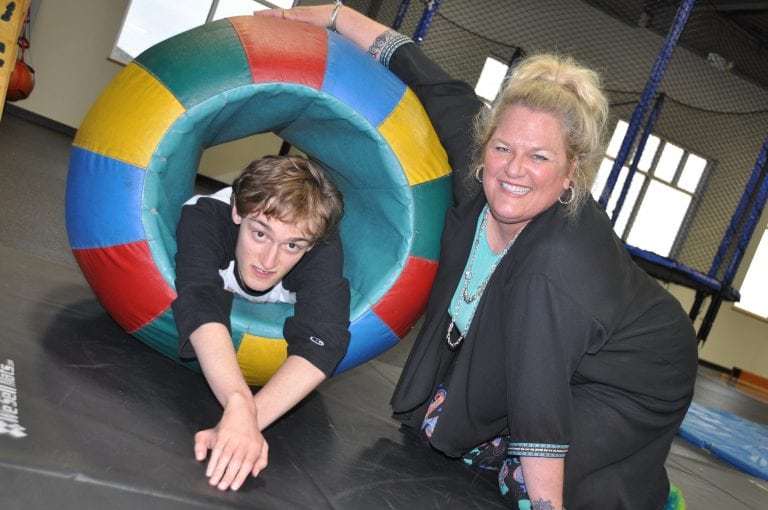 My first vacation with Jakob was a 22-hour road trip from Tampa to my parents' house in Central Illinois. Jakob was 10 months old and already showing some signs that there might be something going on that made him "different." He was pretty good in the car as long as he had his little yellow toy telephone in his hands and he was hitting the same buttons over and over to make the same series of beeps play. Over and over and over again. Non-stop, every minute we were in the car. He didn't sleep and would cry if he dropped the phone. Which happened frequently. We were driving a Nissan Maxima and I couldn't always reach around to find the phone for him so we made a lot of stops to retrieve it.
Exhausted by the end of the first travel day, we looked forward to some rest when we stopped at a hotel for the night. Thinking Jakob would finally sleep, we set up the pack and play. That turned out to be a big fat no-go. Wide awake and ready to party, he spent the majority of the night sitting up between us on the bed in the dark, laughing, kicking, crying and playing with his phone. No one slept much. The second day in the car, it was the same story but with a twist. By the time we reached my parents' house, his lips and mouth were covered in this thick white creamy stuff. Thrush. A trip to my parents' family doctor and some medication that made his entire mouth blue took care of that. On the trip back home to Tampa, we didn't bother to stop at a hotel since we knew no one was going to sleep. We drove the 22+ hours home straight through mostly in silence except for the beeping of that phone.
I've taken Jakob on a lot of road trips since that first long, tiring adventure and it sure has gotten a lot easier. He still loves to ride in the car but that little yellow phone is gone. He gets so excited to stay at the "Hampton Inn House" and has the biggest grin on his face when he finds out the room number we're staying in. He has no problem sleeping. He doesn't eat any foods from restaurants so I always have to pack his meals. So if it's more than one day in the car, we really need a suite at the hotel to make all the food prep easier. I make sure he has something to do that he enjoys like a color or sticker by number book or his iPad. The more activities, the better. I always double check that we have more than enough pairs of socks and underwear since he wants one fresh set in the morning and another at night. I take his toaster because we can't put his waffles in one that has had anything with gluten in it. He is gluten and casein free and can have a reaction even if it only touches something he eats. Even though at this point I believe he'd do fine on a plane, there's just too much we have to pack including groceries. And that damn toaster. Plus, he loves seeing the routes and roads that he's been studying on his iPod and atlases and I wouldn't want him to miss all the detours and potholes along the way.
For me, a vacation needs to be relaxing. If I have a kid who's stressed, frustrated, tired, scared, angry or anxious, that's not relaxing for anybody. So on any trip, I take with him, my main priority is his comfort level. I'm not going to take him somewhere that's going to be overwhelming for him until he's ready for it and is excited to go. Jakob is turning 17 this fall and we're going to Sesame Place. He's beyond thrilled and talks about it every day. I'm pumped knowing that we're both going to have a ball. It's perfect timing for us, and I personally can't wait to meet Cookie Monster. He's my favorite.
Read More