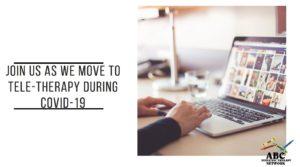 COVID-19 has created many changes for our everyday routines, including the ability to receive face to face therapy services. In order to continue to provide the services children need, ABC Pediatrics has transitioned to teletherapy during this time. Teletherapy uses video and/or audio conferencing in order for a therapist to connect with a patient and their family. Through the use of Teletherapy, a Therapist can provide consultation, education, client evaluation, client monitoring, re-evaluation, and intervention. A therapist will use direct strategies with the child as well as a coaching model with a parent.
In today's modern era, technology is increasingly becoming more and more popular. Aside from the current crisis, Teletherapy provides advantages to many families. It can provide access to services for those clients who live in rural areas or for those who it may be difficult to travel. Being able to complete therapy in your own home without the burden of travel may make it more feasible for many families. At this time, it is our only choice for providing services. Most insurance companies are covering the cost of telehealth during this time.
Teletherapy is a proven means of therapy that decreases barriers for children who may do better through a screen than in person. Some children may have anxiety about face to face therapy sessions but enjoy technology thus creating less of an emotional toll for them. They may also enjoy participating in therapy in the comfort of their own home which may increase their level of participation. Through teletherapy, therapists are able to gain more of an understanding of a child's behavior in the home and community contexts. This has been a huge advantage for ABC therapists to help us better understand the child's needs. We have also been able to better understand what toys a child has at home that will help them work on their goals. Teletherapy can be a great platform for parent and patient education. Parents can work with therapists to create and work towards goals that focus to include the child's behavior in their home context.
As with all forms of technology, there are also some challenges that come with teletherapy. First and foremost, clients and therapists must be comfortable and competent with the technology platform they are using. ABC has chosen a platform that is super easy to use, and we are here to help you get set up. Some parents are concerned about their child being able to attend to the screen for the session. Keep in mind that the expectation of the session is that the therapist will instruct the parent on what to do while the therapists watches and obtains feedback from the parent. Therefore, the child does not have to attend to the screen. The therapist will provide guidance to the parent about how much help to provide the child throughout a task. The parents are learning so much about how to help their child!
Going without therapy can be a significant set-back for your child. If you are concerned about your child's progress, but you also have concerns about how your child will do with teletherapy, please reach out. We are happy to discuss it with you and we are also happy to give a session a try to see how it goes.
For more information, visit http://www.abcpediatrictherapy.com
References
American Occupational Therapy Association. (2013). Telehealth. American Journal of Occupational Therapy, 67(Suppl.), S69–S90. https://doi.org/10.5014/ajot.2013.67S69
Little, L. M., Pope, E., Wallisch, A., & Dunn, W. (2018). Occupation-Based Coaching by Means of Telehealth for Families of Young Children With Autism Spectrum Disorder. American Journal of Occupational Therapy, 72(2), 1–7. https://doi.org/10.5014/ajot.2018.024786
Rortvedt, D., & Jacobs, K. (2019). Perspectives on the use of a telehealth service-delivery model as a component of school-based occupational therapy practice: Designing a user-experience. Work: Journal of Prevention, Assessment & Rehabilitation, 62(1), 125–131. https://doi.org/10.3233/WOR-182847
Torsney, K. (2003). Advantages and disadvantages of telerehabilitation for persons with neurological disabilities. NeuroRehabilitation, 18, 183–185.
Wallisch, A., Pope, E., Little, L., & Dunn, W. (2018). Telehealth for Families of Children With Autism: Acceptability and Cost Comparison of Occupational Performance Coaching…2018 AOTA Annual Conference & Expo, April 19-22, 2018, Salt Lake City, Utah. American Journal of Occupational Therapy, 72, 1. https://doi.org/10.5014/ajot.2018.72S1-RP301A
Developmental Checklist
Is your child meeting their developmental milestones?