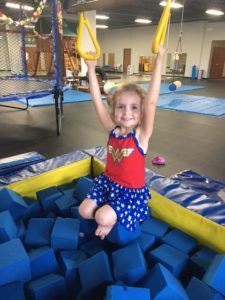 Kids LOVE Halloween…between dressing up, the decorations, parties, and of course the candy…what's not to love? But let's be honest, Halloween is definitely not the most sensory friendly holiday. For kids with sensory processing disorder, it can be a literal nightmare. From the itchy costumes, flashing lights, loud noises, and unexpected scares, the night of Trick-or-Treat can be really overwhelming for you and your child. Below are 6 ways to have a sensory friendly Halloween this year!
The costume…perhaps the most important step that you can control! Some costumes are scratchy, come with face paint that can be sticky or slimy, masks that smell funny, or other head pieces, that can just be painful for kids with sensory issues. Take your child with you to the store to feel the costume and gage their reaction when they touch the costume. That will give you a good idea if they'd be able to tolerate it for a whole evening or not. You could also have them wear some of their most comfortable clothes under their costumes. Or focus on using some of their own clothing to make a unique costume, keep it simple like a cowboy or a cat! When in doubt, do a trial run a few days before to ensure their comfort…you'll appreciate it later when you have avoided a meltdown.
Practice, practice, practice! Set-up time for you and your family to practice Halloween etiquette. First start with your own home, where things are most familiar. Work on ringing the door bell, what to say/how to respond, and how to take the candy…that way they know what to expect and can learn the routine. Next practice at a family or friends house, where things are familiar. It's much easier to practice on a familiar face than a stranger.
Plan your Trick-or- Treat route ahead of time. Try to Trick-or-Treat at neighbors who know you and your kids if possible. It is always easier to go to familiar places with familiar people. And you will also feel comfortable asking them questions like: what kind of decorations they have in their yard. Or they will not get offended if your kiddo is getting overstimulated and does not say "thank you" or respond appropriately to a question.
Plan your time accordingly. Going Trick-or-Treating earlier in the night can be helpful, as it is often less crowded initially. Your child may benefit from a picture schedule, timer, or checklist so they know what to expect! Incorporating "break" times in which they can go back to the house or into your car, can help sensory overload. Be aware of your child's warning signs that they might be getting overstimulated.
Go to smaller events…Trunk-or-Treats, mall, and/or church events are becoming increasingly popular, especially for parents who work, thus limiting the time families can go Trick-or-Treating. These events tend to be for kids of all ages, so it could limit the number of scary masks or decorations you encounter. This will greatly reduce the amount of transitions for you to navigate as well! These events can get crowded, so be sure to call ahead, to see what times tend to be less busy or how many people they are expecting.
Make your own Halloween Traditions. When all is said and done, there is no rule saying you have to participate in any of these activities. If they are too much, it's simply too much! Take it in stride and create your own Halloween traditions, by making it a pizza or game night, do your child's favorite activity, or have a special Mommy or Daddy only date every year to make the holiday special in another way.
I hope these recommendations help you and your child have a happy and safe Halloween! Be sure to visit our website for other fun tips and information www.abcpediatrictherapy.com
Read More