Language in school assignments
HOW TO INCORPORATE LANGUAGE AND SPEECH GOALS INTO HOME SCHOOL ASSIGNMENTS
We all have so much on our hands during this quarantine between working from home, helping your child complete their school work, and then trying to just have fun with your kids. It's exhausting! There are ways to incorporate some of your child's language or speech goals into their existing schoolwork or while you are playing.
Here is an example of a kindergartner doing some math work. The task was to put 43 objects into groups of 10 and see how many blocks were left over. This is a great task for following directions! Further, you can work on targeting grouping by colors/shapes, or compare towers that you build if they are taller or shorter, what has more or less blocks (this addresses vocabulary). There are even sounds that you can target in this task! For example, if you child is working on bilabial sounds, you can work with the "b" for "block" or "blue", "p" for purple or "put on".
Be creative, have fun, and stay well!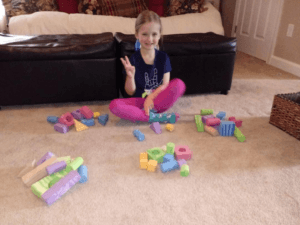 For more information visit http://www.abcpediatrictherapy.com
Developmental Checklist
Is your child meeting their developmental milestones?