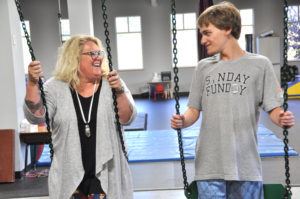 I bought it all.  Every single thing I could find for years.  Puzzles, books, puzzle books, blocks, toys, board games, wall art (big and small, framed and unframed), building blocks, refrigerator toys, magnets, stickers, art supplies, stuffed animals.  And more.  Literally hundreds of items that in some way or another featured the alphabet.
I discovered early on that Jakob was in love with letters.  He was probably a little over a year when it became obvious that the alphabet was his thing.  At three, he would spend hours filling up blank floor pad after blank floor pad of nothing but letters for hours on end.  He loved the Leap Frog Letter Factory video.  He would watch it over and over and laugh hysterically.  If a letter from a puzzle was missing or if he saw letters out of order, he'd freak out and fix it.  There was no doubt that he was emotionally attached to letters.  He may have been disconnected from us but he was in love with A-Z.
When I began to see the alphabet as the doorway into his world, I went on a bender.  I was on high alert everywhere I went and if I spotted the alphabet, I paid for it and took it home.  Everywhere we turned, there were letters.  To see and to touch and to feel and in all my hopes and dreams, to facilitate an interaction.  Something, anything.  A look in the eye, a smile, a laugh, a sound, a word, a sign of affection.
I thought I hit the jackpot when I found alphabet bedding.  Each letter along with a picture lined the sheets.  The comforter was colorful and adorable.  Pottery Barn Kids.  Quality stuff.  Unfortunately, I didn't really think that one through.  It was probably around midnight on one of the first nights that I heard noise coming from his room.  He had woken up, turned on the light and had thrown everything off the bed.  He was wide awake and mesmerized by his fitted sheet.  I had to strip the bed to get him to go back to sleep.  And that took hours.  Whoops.
I'm now in the process of going though all this stuff.  We'll be moving in the fall and it's time to purge.  We've been in our home for 16 years and I have never done any purging at all so I am coming across these hundreds of letters.  Some he never touched, some that were well-used and well-worn and some that have made me cry.  I remember the hopes and dreams I attached to all those letters.  The way I felt when I purchased each one, thinking "this might be the one, the one that gets him to talk to me."  I remember the depth of those feelings.  And the intense fear that came along with it.  The desperation that I felt believing that it was up to me to reach him, to help him, to show him that the world I was living in was benevolent and can be just as much fun as the world that he was living in.
Now, after all the years and looking at it from a calmer, wiser, less fear-based and desperate perspective, do I think it worked?  Yeah, I believe it did.  Reading and writing are such a big part of Jakob's life and continue to bring him so much joy.  Writing letters to the president and other important political figures is something we do together on a regular basis.  And I have no doubt that his love for letters and the sounds that they made helped to inspire him to speak.
All those toys and puzzles and magnets were a doorway, no doubt about it.  But it was the unconditional love, acceptance, and joy that I took in the letters alongside him that got him to walk through the door.
And that's the truth in everything, isn't it?  Accept where we are, find the joy, and love unconditionally.
Because if we can do that, the possibilities are endless.