FREE Bike Riding Clinic
Help You Help Your Child
Our Expert Pediatric Therapists will teach you how to help your child learn to ride a bike.  They will also ensure your child has the correct size bike and helmet.  A therapist will work with your child and share tips on what to practice at home.
To Register: contact Lisa at ldavison@abcpediatrictherapy.com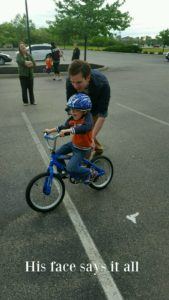 **there are limited spots so register early!
When:  Thursday, July 27 from 6:30 – 8 pm (weather permitting)
Where:  ABC Red Bank Road, 4325 Red Bank Road, Cincinnati, Ohio  45227
http://www.abcpediatrictherapy.com
What should you bring?  Be sure your child wear gym shoes.  Bring your own bike, helmet and a water bottle.
Both child and parent should come ready to work hard to make bike riding successful!