West Chester Bike Riding Clinic
West Chester Location
All ages welcome. Must RSVP to ckraemer@abcpediatrictherapy.com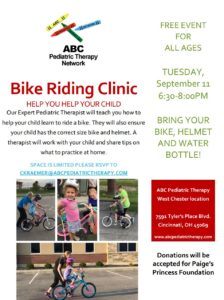 First Responders and ABC present Safety Awareness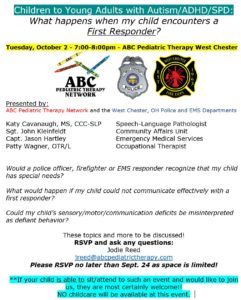 Join us October 2nd at our West Chester location as we team up with our local police and EMS teams to present on child/teen safety.
-Would a police officer, firefighter or EMS responder recognize that my child has special needs?
 –What would happen if my child could not communicate effectively with a first responder?
 –Could my child's sensory/motor/communication deficits be misinterpreted as defiant behavior?
These topics and more to be discussed!
RSVP and ask any questions:
Jodie Reed
jreed@abcpediatrictherapy.com